Lunch with the Libraries Speaker Series: Lena Warren, Jennifer Jarvis, and Heidi Herr
Who can attend?
General public
Faculty
Staff
Students
Contact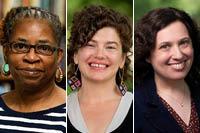 Description
Sheridan Libraries book conservators Lena Warren and Jennifer Jarvis and Special Collections librarian Heidi Herr will give a talk titled "Conserving the Legacy of Abby Fisher" followed by a Q&A.
First published in 1881, "What Mrs. Fisher Knows about Old Southern Cooking" is a landmark text documenting the skills and culinary techniques of one of the first African American women to write a cookbook. The Sheridan Libraries acquired a copy of this exceptionally rare book in July 2020. In this virtual lunchtime talk, learn about the incredible history of former enslaved cook Abby Fisher and the steps taken by the Libraries to ensure her cookbook will continue to inspire researchers and cooks alike.
Presented by the Friends of the Johns Hopkins University Libraries and the Office of Alumni Relations Lifelong Learning.
Who can attend?
General public
Faculty
Staff
Students
Contact