Helena Hicks Emancipation School: Vesla Weaver
Who can attend?
Faculty
Staff
Students
General public
Contact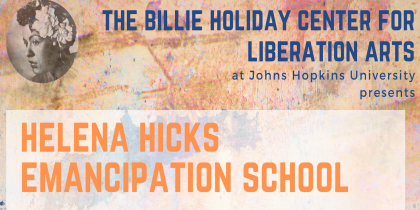 Description
Vesla Weaver, Bloomberg Distinguished Professor of political science and sociology at Johns Hopkins University, will give a talk titled "Race and Inequality in the U.S." as part of the Helena Hicks Emancipation School.
About the series:
Honoring Baltimore's living legend Helena Hicks, who as a Morgan State University student led the 1955 sit-in movement at Read's Drugstore, the Fall 2021 Helena Hicks Emancipation School lecture series features 40-minute presentations from the Johns Hopkins faculty. These lectures are digests of standing courses, manicured for the event. The mini-courses present the main hypothesis or research question, a pithy literature review explaining key readings from the syllabus, definitions of specialist terms, and a window into the unique archives or data. At the conclusion of the lectures, the experts will field questions from the audience. Registered participants of all three mini-courses will receive a certificate of completion from the Johns Hopkins University Billie Holiday Center for Liberation Arts: Helena Hicks Emancipation School.
Who can attend?
Faculty
Staff
Students
General public
Contact