Global Youth Activism Amidst Democratic Decay
Who can attend?
Faculty
Staff
Students
General public
Contact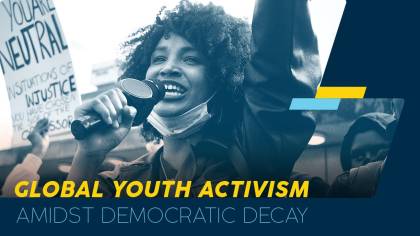 Description
Join Democracy Moves, an international coalition of youth activists from across the world focused on improving democratic conditions in their respective communities, and the SNF Agora Institute for "Global Youth Activism Amidst Democratic Decay." This three-day virtual conference will gather hundreds of youth activists and scholars for discussions, workshops, and connection, specifically:
Networking: Participants will meet with other participants in small groups and be introduced to the themes of the day.
Learning panels: Each day will have a dynamic opening panel combining experts and youth activists from diverse countries. Panel topics include the "State of Youth Activism," "Shrinking Civic Spaces," and "Democracy Beyond Elections."
Breakout sessions: Activists and organizational leaders will reflect on the panels, engage, and learn from each other in interactive breakout sessions.
Activist workshops: Activists will join workshops on specific themes like fundraising, coalition building, and sustainability planning.
Scholar workshops: The Democracy Moves Scholar Network will hold dedicated sessions each day to present ongoing research related to the themes of the conference.
Don't miss this opportunity to learn from and network with activists and scholars from around the world!
Who can attend?
Faculty
Staff
Students
General public
Contact