Social Movements and American Democracy in the 21st Century
Who can attend?
Faculty
Staff
Students
General public
Contact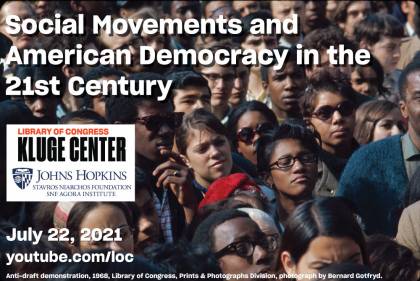 Description
Grassroots organizing and collective action have always been fundamental to American democracy. Some recent struggles by Americans to make their voices heard have not resulted in the kinds of changes that participants hoped for. But some movements, both recently and further back in American history, have succeeded in changing our society and the way that we understand it.
What's the difference between a movement that wins victories for its constituents, and one that fails? What are the factors that make collective action powerful?
In this event, scholars of American politics, social movements, and civic participation will discuss the state of social movements in the U.S. today and how they interact with other trends related to the health of democracy in a troubled time.
Presented by the SNF Agora Institute in partnership with the John W. Kluge Center at the Library of Congress.
Who can attend?
Faculty
Staff
Students
General public
Contact