Ask the India Institute Anything: COVID-19
Who can attend?
Faculty
Staff
Students
General public
Contact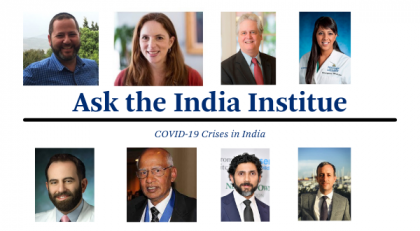 Description
The COVID-19 pandemic continues to have a dramatic impact on public health across the globe and while many countries are seeing a decline in COVID-19 cases, India is experiencing an alarming surge. The India Institute, in partnership with Hopkins at Home, is inviting students, faculty, staff, and alumni to bring their questions to experts from Johns Hopkins using a flexible Ask Me Anything (AMA)-style platform that allows them to ask questions as they arise and on their own schedules.
The panel of experts is looking forward to answering your questions, sharing their answers for all to see. The virtual bulletin board will be active for the three weekdays. You can submit your question at any time during that period and simply check back later for an answer; experts will post their answers within a day's time. Post a question online.
Panelists
Who can attend?
Faculty
Staff
Students
General public
Contact