Screening and Q&A: Lights of Baltimore
Who can attend?
Faculty
Staff
Students
General public
Contact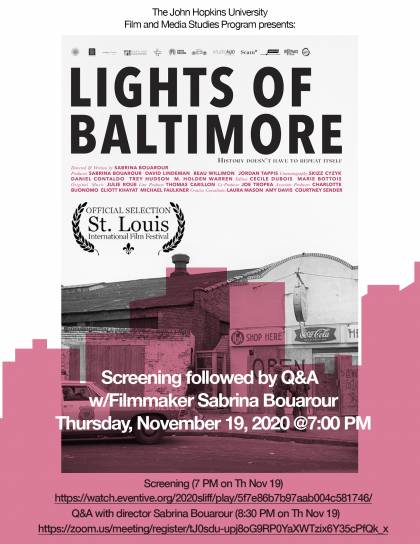 Description
Please join the Johns Hopkins University Film and Media Studies Program for a night with filmmaker Sabrina Bouarour. The evening offers a video stream of her documentary Lights of Baltimore, which focuses on the Baltimore Uprising, and a Q&A with the filmmaker herself as well as the documentary's crew and featured subjects.
The screening begins at 7 p.m. followed by the Q&A at 8:30pm.
This event is part of the 2020 St. Louis International Film Festival.
Who can attend?
Faculty
Staff
Students
General public
Contact