Iran and the US— A Critical Juncture: Fireside Chat with Ambassador Wendy Sherman
Who can attend?
General public
Faculty
Staff
Students
Contact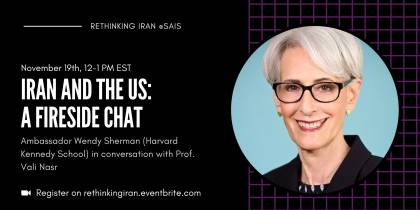 Description
Join a moderated conversation between Ambassador Wendy Sherman and Johns Hopkins' Vali Nasr on the future of U.S.-Iran relations.
Wendy R. Sherman is a professor of the practice of public leadership and director of the Center for Public Leadership at the Harvard Kennedy School. She led the U.S. negotiating team that reached agreement on a Joint Comprehensive Plan of Action between the P5+1, the European Union, and Iran for which, among other diplomatic accomplishments, she was awarded the National Security Medal by President Barack Obama.
Vali Nasr is a professor of Middle East studies and international affairs at the Johns Hopkins University School of Advanced International Studies.
This event is part of Rethinking Iran at SAIS's ongoing programming on the theme of "Iran and the US: A Critical Juncture," which will include fireside chats, policy forums, and roundtable discussions.
Who can attend?
General public
Faculty
Staff
Students
Registration
Contact