Iran and the US— A Critical Juncture: Fireside Chat with Ariane Tabatabai
Who can attend?
General public
Faculty
Staff
Students
Contact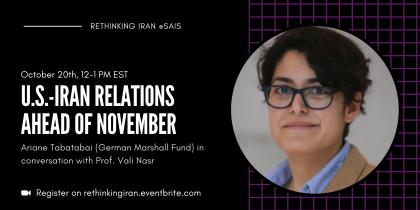 Description
Join a moderated conversation between Ariane Tabatabai and Johns Hopkins' Vali Nasr on the future of U.S.-Iran relations ahead of the November election.
Ariane M. Tabatabai is the Middle East fellow at the Alliance for Securing Democracy at the German Marshall Fund of the United States and an adjunct senior research scholar at the Columbia University School of International and Public Affairs.
Vali Nasr is a professor of Middle East studies and international affairs at the Johns Hopkins University School of Advanced International Studies.
This event is part of Rethinking Iran at SAIS's ongoing programming on the theme of "Iran and the US: A Critical Juncture," which will include fireside chats, policy forums, and roundtable discussions.
Who can attend?
General public
Faculty
Staff
Students
Registration
Contact