Black Americans: Race and Representation in Media
Who can attend?
General public
Faculty
Staff
Students
Contact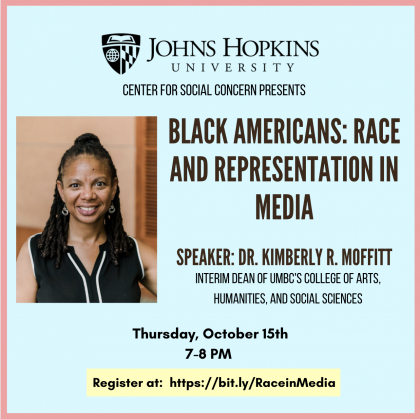 Description
Kimberly R. Moffitt, interim dean of UMBC's College of Arts, Humanities and Social Sciences, will discuss media representations of Black Americans, respectability politics and Black exceptionalism, as well as racial narrative's impact on Black children, hosted by the Center for Social Concern.
Dr. Moffitt's research focuses on mediated representations of marginalized groups as well as the politicized nature of Black hair and the body. She has published three co-edited volumes and extends her research interests into the community by offering workshops on Black hair and body politics as it relates to bullying among middle school girls. Dr. Moffitt often writes op-ed articles for the Baltimore Sun and is a frequent guest on local public radio programs. She is a founding parent and board member of Baltimore Collegiate School for Boys Charter School, a 4th-12th college preparatory school.
Who can attend?
General public
Faculty
Staff
Students
Contact