Hopkins at Home: The Chamber Music of Ludwig van Beethoven — A Composer at Work
Who can attend?
General public
Faculty
Staff
Students
Contact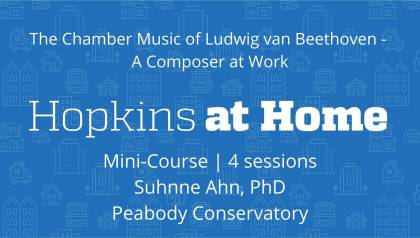 Description
Is classical music your cup of tea? Has the art of Ludwig van Beethoven inspired you in your musical interests or pursuits? How much do you know about how Beethoven's art was created and his influence on the evolution of classical music? Celebrate the legendary artist's upcoming 200th birthday by joining Suhnne Ahn, an instructor of musicology at Peabody, to dive into a deep, small-group discussion about Beethoven's development as a chamber music composer throughout his life and how it mirrored his symphonic output from his arrival in Vienna as a young man until the end of his life. The works provided a vehicle for daring expansion of inherited genres as well as intimate expression for performing artists.
This four-week mini-course examines hallmarks of Beethoven's chamber music output, offers insight into compositional advances within these works, and provides an introduction into the surviving autographs and manuscripts preserved in and digitized by research institutions such as the Library of Congress in Washington, D.C., the Beethoven Archive in Bonn, and other international libraries. Participants in this small group course should be prepared to engage in a robust discussion on Beethoven's chamber pieces — exposure to Western music notation and some familiarity with instrumental genres of the 18th- and 19th-century European traditions are recommended for this discussion.
Course schedule:
Week 1 - Oct. 4: Beethoven in the Shadow of Mozart: Musical Inheritance
Piano Trio in E-flat Major, Opus 1, No. 1 Violin Sonata in D Major, Opus 12, No. 1 String Quartet in F Major, Opus 18, No. 1
Week 2 - Oct. 11: Bold Maturity: Revolutionary Expansion
Violin Sonata in C minor, Opus 30, No. 2 Violin Sonata in A minor, Opus 47 ("Kreutzer") String Quartet in F Major, Opus 59, No. 1 ("Rasumovsky") Cello Sonata in A Major, Opus 69
Week 3 - Oct. 18: Closing Doors to Open New Ones: Lyricism & Farewells
String Quartet in F minor, Opus 95
Violin Sonata in G Major, Opus 96 Piano Trio in B-flat Major, Opus 97 ("Archduke" Trio)
Week 4 - Oct. 25: Elegiac Audacity: The Late String Quartets
String Quartet in B-flat Major, Opus 130 String Quartet in C# minor, Opus 131 String Quartet in A minor, Opus 132
Who can attend?
General public
Faculty
Staff
Students
Contact