Hopkins at Home: Quantum Sensing for Everyone
Who can attend?
General public
Faculty
Staff
Students
Contact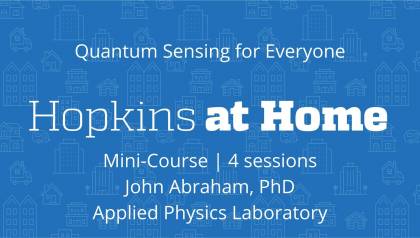 Description
Imagine a world where you can monitor the movement of magma within the Earth's crust, peer around the corner without moving, and detect initial signs of degenerative disease. Welcome to the quantum world. This course will introduce you to the weird and wondrous quantum world and quantum sensing, a technology that is transforming our world.
The quantum world is comprised of the smallest bits of subatomic matter and exhibits behaviors that are sometimes strange and mysterious. During these four sessions, you'll join John Abraham, senior scientist at the Johns Hopkins University Applied Physics Laboratory, as he leads you through the world of qubits, protons, and wavicles. Explore the ways these tiny bits have a big impact (and see Ant Man in a new light).
Week 1 - Oct. 6: Elements of the Quantum World: You will begin by learning the foundational ideas that comprise the quantum world and the ways we use measurement; quantization, coherence, and entanglement.
Week 2 - Oct. 13: Magnetic Sensing: We peer into ourselves and the Earth through measuring magnetic fields. What technology exists and how it is used today? What are the opportunities?
Week 3 - Oct. 20: Measuring Time: Next, we will discuss atomic clocks and why are they important. We dissect how this technology of keeping time allows for our instantaneous ability to communicate.
Week 4 - Oct. 27: Are There Limits to Measuring?: Finally, we will delve into the currently understood limits of measurement.
Who can attend?
General public
Faculty
Staff
Students
Contact