Iran and the U.S.: A Critical Juncture: Fireside Chat with Ilan Goldenberg
Who can attend?
General public
Faculty
Staff
Students
Contact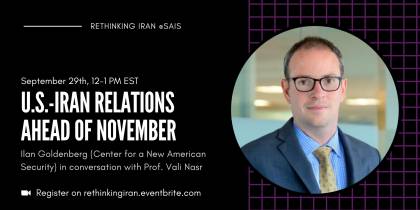 Description
Ilan Goldenberg, a senior fellow and director of the Middle East Security Program at the Center for a New American Security, and Vali Nasr, professor of Middle East studies and international affairs at the Johns Hopkins University School of Advanced International Studies, will be part of a moderated conversation on the future of U.S.-Iran relations ahead of the November election.
Goldenberg is a foreign policy and defense expert with extensive government experience covering Iran's nuclear program, the Israeli-Palestinian conflict, and the broader challenges facing the Middle East. Nasr spearheads the Rethinking Iran series at SAIS.
The last four years have put an unparalleled strain on the already tenuous relations between Washington and Tehran. The U.S. withdrawal from the Iran nuclear deal in 2018, hardening U.S. sanctions on Iran, and the assassination of Iranian Major General Qassim Soleimani by the U.S. in January 2020 have made it hard to envision whether and how the growing tensions of this era will dissipate.
This academic semester, Rethinking Iran at SAIS programming will focus on the theme: "Iran and the U.S.: A Critical Juncture," which will include fireside chats, policy forums, and roundtable discussions.
Who can attend?
General public
Faculty
Staff
Students
Contact