The 2020 Election and the Future of American Democracy: Russian Election Interference
Who can attend?
General public
Faculty
Staff
Students
Contact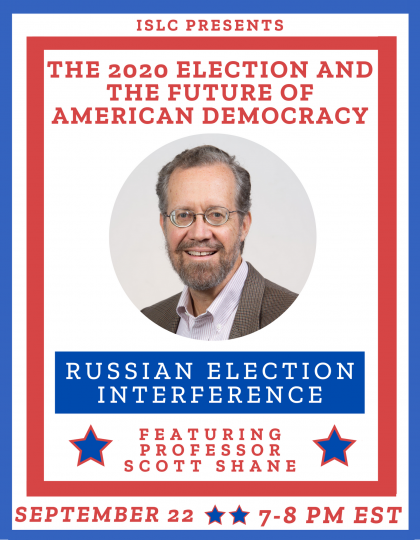 Description
Scott Shane, former New York Times reporter and visiting scholar at the SNF Agora Institute, will discuss previous and current issues with Russian election Interference as part of the International Studies Leadership Council fall speaker series entitled "The 2020 Election and the Future of American Democracy."
Please attend the event by using the Zoom link.
Scott Shane is a journalist and author who spent 15 years covering national security and other subjects for The New York Times, where he won Pulitzer Prizes in 2017 and 2018 with colleagues for stories on Russia's interference in the 2016 election. His most recent book, Objective Troy: A Terrorist, a President, and the Rise of the Drone, tells the story of the American-born radical cleric Anwar al-Awlaki, killed in a drone strike in Yemen in 2011 on the orders of President Barack Obama. He has written on interrogation and torture, terrorism and targeted killing, WikiLeaks and secrecy, the National Security Agency and many other topics. He reported for 21 years for the Baltimore Sun and is a former Moscow correspondent whose first book, Dismantling Utopia, is a firsthand account of the Soviet collapse.
Who can attend?
General public
Faculty
Staff
Students
Contact