Panel discussion: Katrin Pahl's "Sex Changes with Kleist"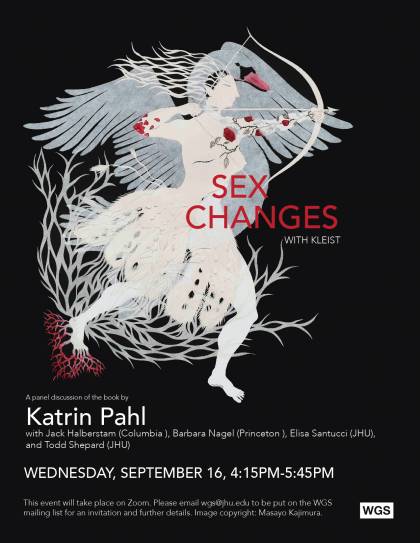 Description
Please join the first Program for the Study of Women, Gender, and Sexuality event of the academic year, a panel discussion and celebration of Katrin Pahl's recent book Sex Changes with Kleist (2019, Northwestern). Pahl, co-director of the Program for the Study of Women, Gender, and Sexuality, will be joined by Jack Halberstam from Columbia University, Barbara Nagel from Princeton, Elisa Santucci from Johns Hopkins, and Todd Shephard from Johns Hopkins.
According to the publisher: "Sex Changes with Kleist analyzes how the dramatist and poet Heinrich von Kleist (1777–1811) responded to the change in the conception of sex and gender that occurred in the 18th century. Specifically, Pahl shows that Kleist resisted the shift from a one-sex to the two-sex and complementary gender system that is still prevalent today. With creative close readings engaging all eight of his plays, Pahl probes Kleist's appreciation for incoherence, his experimentation with alternative symbolic orders, his provocative understanding of emotion, and his camp humor. Pahl demonstrates that rather than preparing modern homosexuality, Kleist puts an end to modern gender norms even before they take hold and refuses the oppositional organization of sexual desire into homosexual and heterosexual that sprouts from these norms.
"Focusing on the theatricality of Kleist's interventions in the performance of gender, sexuality, and emotion and examining how his dramatic texts unhinge major tenets of classical European theater, Sex Changes with Kleist is vital reading for anyone interested in queer studies, feminist studies, performance studies, literary studies, or emotion studies. This book changes our understanding of Kleist and breathes new life into queer thought."
To access the panel, please contact wgs@jhu.edu for the Zoom link.
Contact