"Insert Marketing Cliché Here"
Who can attend?
General public
Faculty
Staff
Students
Contact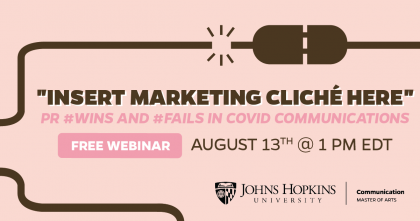 Description
Please join the MA in Communication Program for a special webinar on the struggles of communication during COVID-19.
With none of us having lived through a concurrently occurring global pandemic and recession before, companies worldwide are scrambling to find marketing messages that bridge the gap between expressing empathy with their customers and keeping their businesses going. But too many seem to be throwing out marketing commonsense along with all those disposable masks. Join two Johns Hopkins instructors, Shonali Burke and Mark Story, who'll talk about effective ways to maintain engagement with your audience, without them hitting "delete" or "unsubscribe" or turning you into a meme.
Shonali Burke is an award-winning brand strategist, teacher, and trainer who helps purpose-driven brands bring their big ideas to life. She was named "Instructor of the Year" for this program in 2016, where she teaches "Public Relations Writing," "Communication.org: Not-for-profits in the Digital Age," and "PR in the Age of Digital Influence."
Mark Story is currently the director of communications and marketing for the Bladder Cancer Advocacy Network. He is a published author, writer, podcaster, public speaker, and fierce cancer advocate. Story teaches "Persuasion," "Public Relations in the Age of Digital Influence," "Public Affairs Communication," and "Introduction to the Digital Age."
Who can attend?
General public
Faculty
Staff
Students
Contact