Waste Less Wednesday Zoom Social
Who can attend?
Faculty
Staff
Students
General public
Contact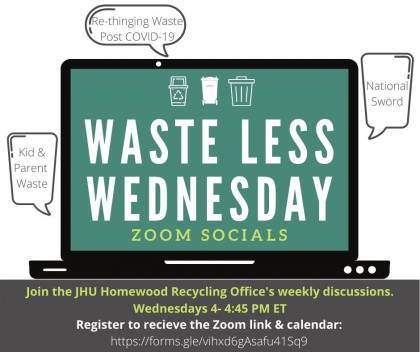 Description
Join the Johns Hopkins University Homewood Recycling Office for a weekly Waste Less Wednesday Social Zoom. Each week, a new sustainability professional will explore a different topic related to waste: composting, the use of reusables in a post-COVID-19 world, child and parent waste, and more.
The weekly Social Zooms will be informal conversations between the Homewood Recycling Office, a co-host, and the Zoom audience. These events are open to the public and should be an excellent opportunity to share ideas, brainstorm, and explore questions so please feel free to share this announcement with your friends, colleagues, students, and family.
Who can attend?
Faculty
Staff
Students
General public
Contact