Redesign Your Future Digital Retreat Vision Chat: Composing Your Future
Who can attend?
General public
Faculty
Staff
Students
Contact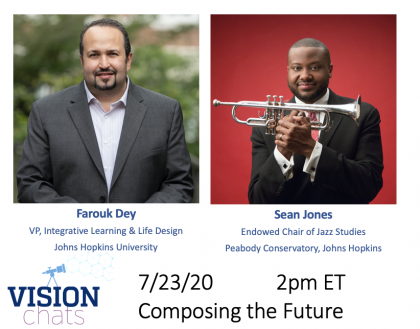 Description
Vision Chats are dynamic conversations with visionaries about the future education, work, technology, industry, health, environment, and society, hosted by Johns Hopkins Vice Provost Farouk Dey.
Join the conversation with Sean Jones, jazz studio professor and chair at the Peabody Conservatory, on exploring possibilities, seizing opportunities, and seeking diverse collaborations while in pursuit of accomplishing your goals in a Vision Chat entitled "Composing Your Future."
The theme for the July Vision Chat is "We explore possibilities." As we move forward into the second half of 2020 with a curious designer mindset, there are many possibilities to explore. For attendees following the series who are actively seeking opportunities, Jones will discuss how to define achievable goals and explore strategies for radical collaboration to generate wild ideas and extrapolate actionable steps to continue making progress toward your goals.
This event is part of the Redesign your Future Digital Retreat, a three-part summer series for students in higher education. See the full list of events online
Who can attend?
General public
Faculty
Staff
Students
Contact