BLocal Small Business Webinar: Returning to Work Safely
Who can attend?
General public
Faculty
Staff
Students
Contact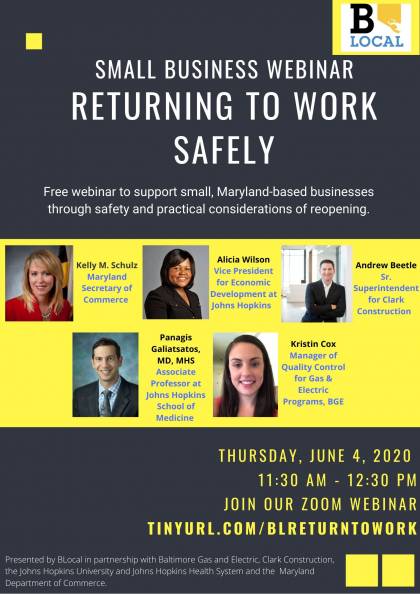 Description
Join Maryland Secretary of Commerce Kelly M. Schulz and BLocal partners as they discuss returning to work safely. This webinar is open to the public and is designed to guide small, Maryland-based businesses through safety and practical considerations of reopening.
As the state and Baltimore City continues to slowly reopen, many business owners are seeking information on how to re-open safely both for their employees and customers. There are questions about the stages of opening as well as if there will be new requirements placed on businesses. There are also questions around how to ensure customers are safe and well served. This webinar will seek to address many of these questions and those bought on the call.
In this webinar, speakers will assist small businesses by discussing:
the state's plan for reopening for business
practical steps you can take to prepare your business for opening
lessons learned from being an essential business during the pandemic
steps you can take to proactively communicate with vendors, customers and employees
About the presenters:
Kelly M. Schulz brings a wealth of knowledge to the Maryland Department of Commerce from her years of experience working in the government, in the private sector, and as a small business owner. She had previously served as the secretary of the Maryland Department of Labor, Licensing and Regulation since her confirmation in February 2015 and is also a former member of the Maryland House of Delegates.
Kristin Cox is the manager of quality control for gas and electric programs at Baltimore Gas & Electric and is a Baltimore native. She holds a mechanical engineering degree from the University of Maryland and an MBA from Loyola University. She is currently leading efforts as the single point of contact for Baltimore Gas & Electric's contracting partners during the Pandemic. She now lives in Bel Air with her husband and daughter.
Panagis Galiatsatos is an assistant professor at the Johns Hopkins School of Medicine in the Division of Pulmonary and Critical Care Medicine. He is co-chair of the Johns Hopkins Health Equity Steering Committee and is the co-director and co-founder of Medicine for the Greater Good, a novel medical initiative impacting over 10,000 Baltimore City lives in regards to health and wellness while at the same time creating physician-citizens. He has published over 30 research articles, with a focus on health equity, community engagement, and contextual-level variables impact on health outcomes, and is a co-author of the book series, Building Health Communities. During the pandemic, Galiatsatos and colleagues coordinate community engagement to assure all populations were able to access COVID-19 updates and resources in an effort to assure compliance with public health requests.
Andrew Beetle is a senior superintendent with Clark Construction Group, leading field operations on some of the company's most complex health care and higher education projects. Currently, Beetle is completing the Capital Region Medical Center for the University of Maryland Medical system, a 700,000 SF, 205-bed acute care facility in Prince Georges County.
Will Englehart is Clark Construction Group's project development and preconstruction services leader for the greater Baltimore area, focusing on projects and clients in the higher education, health care, and commercial market sectors. While managing the day-to-day operations of Clark's Baltimore office, he is active in BLocal and other Baltimore-focused initiatives.
Tim Campbell is a project executive with Clark Construction Group, serving as the lead on a variety of complex mixed-use, commercial, and social infrastructure projects. Campbell is currently leading teams working on projects at Port Covington in Baltimore and at the Howard County Circuit Courthouse in Columbia, a landmark P3 effort that will deliver a 240,000-square-foot courthouse and 691-space parking garage for the county.
Who can attend?
General public
Faculty
Staff
Students
Contact