Chesapeake DHX Social & Stretch with BurnAlong
Who can attend?
General public
Faculty
Staff
Students
Contact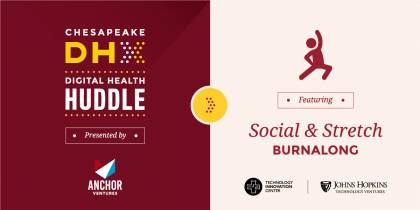 Description
Join the Technology Innovation Center for a Social & Stretch with BurnAlong.
Enjoy a live experience of BurnAlong technology though a 15-minute warm-up class. Cool down with a beverage and relax for a moderated discussion around BurnAlong's recent growth and funding award.
BurnAlong is a health and wellness platform that is used by municipalities, universities, hospitals, and companies of all sizes to connect their employees with thousands of online physical, mental, and emotional health classes. A graduate of M-1 Ventures, a local accelerator run through the support of Johns Hopkins, the University of Maryland, Plank Industries, Brown Advisory, and the Abell Foundation, BurnAlong is now the online health and wellness partner of leading employers of all sizes around the country, ranging from 100 to 10,000+ employees.
Hear from Daniel Freedman, BurnAlong co-CEO, on how the corporate wellness platform is navigating and helping to lead employers, hospitals, and hundreds of gyms, studios, and wellness professionals through the COVID-19 health crisis.
Who can attend?
General public
Faculty
Staff
Students
Contact