Webcast: Climate, Food Insecurity, and COVID-19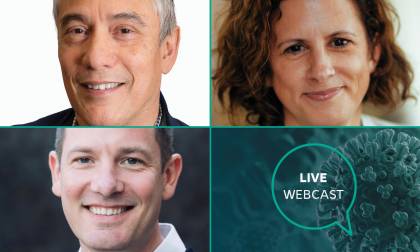 Description
For communities around the world already living with food insecurity — caused by poverty, inadequate food supply chains, and vulnerability to natural disasters (often made worse by climate change) — the COVID-19 pandemic has only made things worse. For other communities, some of which haven't had to think about these issues, the pandemic's sudden spread has exposed unforeseen faults in the food trade, leaving crops spoiling in fields while market shelves sit empty.
As part of the SNF Agora Conversations: The Politics and Policy of COVID-19 series, please join a discussion about how the current pandemic crisis is both exacerbating existing food-supply issues and also giving us a glimpse of what our future might look like if we don't rethink and redesign our food systems to be more robust in the face of economic hardship, natural disaster, and climate change.
Please attend the event by joining the webcast.
Guests:
Martin Bloem is a professor of environmental health sciences in the Johns Hopkins Bloomberg School of Public Health and the director of the Johns Hopkins Center for a Livable Future. He spent 12 years at the United Nations World Food Programme and as the WFP's Global Coordinator for UNAIDS, the Joint United Nations Programme on HIV/AIDS. Bloem has more than three decades of experience in research on public health, nutrition, emergencies, and food systems.

Jessica Fanzo is a Bloomberg distinguished associate professor of global food and agriculture policy and ethics at the Berman Institute of Bioethics, the Bloomberg School of Public Health, and the Nitze School of Advanced International Studies at Johns Hopkins University. She also serves as the director of Johns Hopkins' Global Food Policy and Ethics Program. From 2017 to 2019, Fanzo served as the co-chair of the Global Nutrition Report and the UN High Level Panel of Experts on Food Systems and Nutrition.

Jonas Nahm, moderator, is assistant professor of energy, resources, and environment at the Johns Hopkins School of Advanced International Studies. His research interests focus on the intersection of economic and industrial policy, energy policy, and environmental politics. In addition to his work on renewable energy industries, Nahm has ongoing research projects on the politics of greening the global auto sector and the determinants of national climate policies.
Contact