Chesapeake DHX Presents: Pitches & Polling
Who can attend?
General public
Faculty
Staff
Students
Contact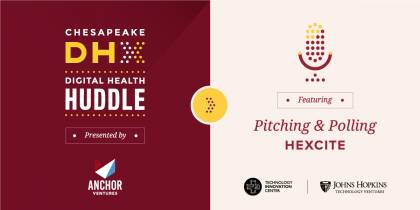 Description
Join the Johns Hopkins Technology Innovation Center for a virtual digital health start-up pitch competition.
Five early-stage digital health start-up teams from the 2020 Hexcite Cohort will pitch their solutions to a panel of expert judges and the Chesapeake Digital Health Exchange (DHX) audience.
Hexcite, the Johns Hopkins medical software accelerator, builds a talented team around a clinical problem and software solution. The final pitch marks the closing of Hexcite's 16 weeks of business and design workshops curated by the Johns Hopkins Technology Innovation Center.
Meet the 2020 Hexcite Teams:
Acute Cards: intervention education for NICU parent support
Airz: an at-home mobile tool for sleep apnea prediction
Consent Ready: a procedural consent form repository system
Perfect Pass: a handover platform for physician shift changes
Rose: an AI platform that collects and shares mental health data
Attendees of Pitches & Polling are invited to join the interactive Zoom presentation with a cocktail and vote for their favorite startup pitch.
Who can attend?
General public
Faculty
Staff
Students
Contact