Webcast: Protecting Both Public Health and Civil Liberties
Who can attend?
General public
Faculty
Staff
Students
Contact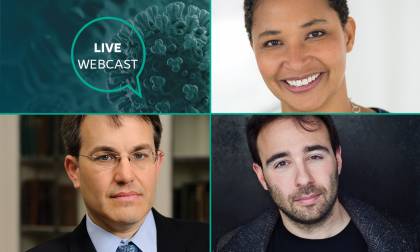 Description
Protecting both public health and civil liberties is always a balancing act—think of the ongoing and very heated debate in the United States and elsewhere between gun control and the right to bear arms. Join this webcast for a discussion of how, during the current pandemic crisis, we can negotiate the tightrope walk between putting extraordinary measures in place to save lives while also protecting individual freedoms. This discussion is presented as part of "SNF Agora Conversations: The Politics and Policy of COVID-19."
This webcast will be streamed on the Johns Hopkins University Coronavirus Resource website.
Speakers include:
Danielle Allen, James Bryant Conant University Professor at Harvard University and director of Harvard's Edmond J. Safra Center for Ethics. She is a political theorist who has published broadly in democratic theory, political sociology, and the history of political thought. She is the author of many books, including Our Declaration: A Reading of the Declaration of Independence in Defense of Equality (2014), Education and Equality (2016), and Cuz: The Life and Times of Michael A. (2017).
Robert C. Lieberman, Krieger-Eisenhower Professor of Political Science at Johns Hopkins University. He previously served as provost of Johns Hopkins and dean of Columbia University's School of International and Public Affairs. He has written extensively about American politics and public policy, and is the author (with Suzanne Mettler) of Four Threats: The Recurring Crises of American Democracy, to be published by St. Martin's Press in August 2020.
Moderator Yascha Mounk, senior fellow with SNF Agora Institute and an associate professor of the practice at the Johns Hopkins University School of Advanced International Studies. He is a political scientist known for his work on the rise of populism and the crisis of liberal democracy. He is a contributing editor at The Atlantic and host of The Good Fight podcast. His most recent book is The People vs Democracy: Why Our Freedom is In Danger and How to Save It (2018).
This webcast will be streamed on the Johns Hopkins University Coronavirus Resource website.
Who can attend?
General public
Faculty
Staff
Students
Contact