Energy and Environmental Programs Speaker Series: Peter Houlihan
Who can attend?
General public
Faculty
Staff
Students
Contact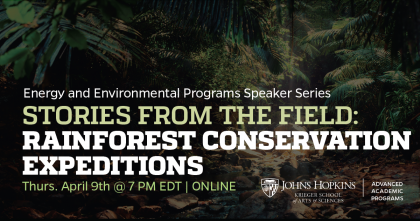 Description
Peter Houlihan, an adjunct professor of environmental sciences and policy program at Johns Hopkins, will lead a lively webinar entitled "Stories From the Field: Rainforest Conservation Expeditions" featuring a discussion and behind-the-scenes images and stories from his research and conservation work, from the Amazon to the Congo, Madagascar to Borneo, and many forests and islands in between. This event is part of the Environmental Sciences and Policy and Energy Policy and Climate speaker series.
Houlihan specializes in planning and leading expeditions comprised of local scientists into understudied and threatened rainforests all over the world for conservation. Operating in more than 20 countries, Houlihan's expeditions are fundamentally conservation focused, and he utilizes visual storytelling as a means to raise greater awareness for these efforts. He instructs a graduate field course in tropical ecology and conservation for U.S. and Cameroonian students in the Congo Basin rainforest.
Houlihan is a conservation scientist, National Geographic Explorer, photographer with the National Geographic Image Collection, senior research fellow with UCLA's Center for Tropical Research, fellow of the Explorers Club, and gear tester for Patagonia.
Who can attend?
General public
Faculty
Staff
Students
Contact