Who can attend?
General public
Faculty
Staff
Students
Contact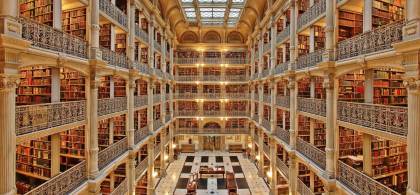 Description
Submersive Productions is proud to premiere See Also, a site-specific, immersive theater experience exploring Baltimore's historic George Peabody Library and other Johns Hopkins collections. The production is inspired by "see also" references, a traditional library cataloging practice that linked different terms on catalog cards. The simple phrase "see also" suggests many ideas: from a need to classify the world around us and an inclination to abandon one topic of research for another, to an evolving, feminist understanding of truth that makes space for many voices simultaneously. Like a card catalog, See Also will prompt a variety of complex and thought-provoking journeys.
Following threads (both figurative and literal) around the George Peabody Library in a choose-your-own-adventure style, participants will encounter visual art, soundscapes, and performers portraying character composites based on historical women and non-binary individuals from the collections of the Johns Hopkins Sheridan Libraries and University Museums. The performance will culminate in the world premiere of a work by contemporary female composer Briay Conditt.
Come enjoy an evening of immersive theater and music in one of the most beautiful libraries in the world.
Presented in partnership with In the Stacks and the Johns Hopkins University Sheridan Libraries.
Performances will begin at 6 p.m., 7 p.m., and 8 p.m. each evening and will last approximately 45 minutes. Please arrive at least 30 minutes prior to the performance you'd like to attend. Attendance is limited to 100 audience members per performance.
Who can attend?
General public
Faculty
Staff
Students
Tickets
Free with a $20 suggested donation
Contact