Edward and Nancy Dodge Lecture: Wild Ideas on the Great Plains
Who can attend?
General public
Faculty
Staff
Students
Contact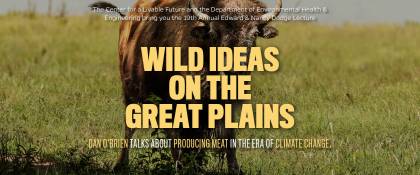 Description
Dan O'Brien, wildlife biologist and rancher for more than thirty years, is an owner of Wild Idea Buffalo Co. and the Cheyenne River Ranch just west of the Badlands National Park and north of the Pine Ridge Indian Reservation. He is also one of the most celebrated falconers in America today and was a prime mover in the restoration of peregrine falcons in the Rocky Mountains in the 1970s and '80s. O'Brien will talk about producing meat in the era of climate change and how his vision may apply to other landscapes and the world at large for the Center for a Livable Future and the Department of Environmental Health and Engineering as the Edward and Nancy Dodge Lecture.
O'Brien is one of the most powerful literary voices on the Plains. Described by the New York Times as "a writer with a keen and poetic eye…", his novels include The Spirit of the Hills, In the Center of the Nation, Brendan Prairie, The Contract Surgeon, The Indian Agent, and Stolen Horses. O'Brien's memoirs on falconry, The Rites of Autumn and Equinox, are intimate and revealing explorations of his life-long search for wildness on the Great Plains. O'Brien's other non-fiction book, Buffalo for the Broken Heart, which explores the history of his ranch and the conversion from beef to buffalo, was chosen for One Book South Dakota in 2009. His latest non-fiction book, Wild Idea – Buffalo & Family in a Difficult Land, is a sequel to Buffalo for the Broken Heart.
Reception to follow in the Gallery.
Who can attend?
General public
Faculty
Staff
Students
Contact