Paris/Algiers 1969: Declarations of Freedom by the Black American Avant-Garde
Who can attend?
General public
Faculty
Staff
Students
Contact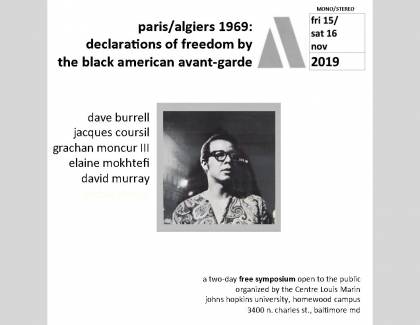 Description
At the close of the 1960s leading black American musicians associated with the "free jazz" scenes of New York and Chicago left for Paris. Weary of a poisoned U.S. political climate and eager to work, they would spend months or even years in the French capital seeking new opportunities to perform and record, often alongside French or other European jazz musicians. Some, like Archie Shepp and Dave Burrell, would participate in the epochal Pan-African Festival of July 1969. In scope and in impact, this migration of the American avant-garde –with the Art Ensemble of Chicago leading the way– mirrored that of other black American intellectuals from Richard Wright to James Baldwin who in post-war France saw a fertile ground for creation in proximity to the African continent.
To expand the historical record of trans-Atlantic cultural exchange at the close of the '60s, and to assess the particular impact of the Pan-African Festival of July 1969, the [Centre Louis Marin](https://grll.jhu.edu/french/about/centre-louis-marin-for-interdisciplinary-french-studies/( at Johns Hopkins is proud to host a two-day 50th anniversary symposium, bringing together musicologists, cultural historians, and critics and featuring such distinguished guests as pianist Dave Burrell, trumpeter Jacques Coursil, saxophonist David Murray, and artist/activist Elaine Mokhtefi, author of Algiers: Third-World Capital.
Times and Locations:
Friday, Nov. 15, 9:30 a.m. to 1:15 p.m., Levering Hall, Glass Pavilion
Friday, Nov. 15, 1:30 to 5:30 p.m. in Mudd Hall, room 26
Saturday, Nov. 16, 9 a.m., Remsen Hall, room 101
Who can attend?
General public
Faculty
Staff
Students
Contact