Panel: Benefiting from World Heritage Designation in the United States
Who can attend?
General public
Faculty
Staff
Students
Contact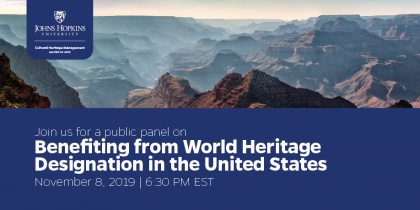 Description
Please join the Cultural Heritage Management Graduate Program at Johns Hopkins University and US/ICOMOS for a discussion and reception with national experts on the economic and social benefits of World Heritage designation. Learn how World Heritage inscription for sites in the U.S. can enhance the conservation impact of protected areas, the economic vitality of adjacent communities, and the quality of the visitor experience.
Attend in-person, register for the live stream, or watch via Facebook Live starting at 6:30 p.m.
Continue the conversation on Saturday with US/ICOMOS for a symposium on "Learning from Current U.S. World Heritage Sites and Planning for the Future."
Transportation and parking
Please bring photo ID to show to security to enter the building.
The closest metro station is the Dupont Circle metro stop, south entrance, on the red line. When you exit the metro, turn right onto Dupont Circle and take the third right onto Massachusetts Avenue NW. Walk southeast on Massachusetts Ave, NW for approximately one block. The building is located at 1717 Massachusetts Ave NW, just past Brookings Institution, on the left.
Visitors can park at a rate of $12 after 4:30 p.m. at the Central Parking Garage at 1800 Massachusetts Avenue (enter this location at 1330 18th St NW). The garage is open Monday through Friday and closes at 11 p.m.
Who can attend?
General public
Faculty
Staff
Students
Contact