The Business of Saving our Planet (Facebook Live)
Who can attend?
General public
Faculty
Staff
Students
Contact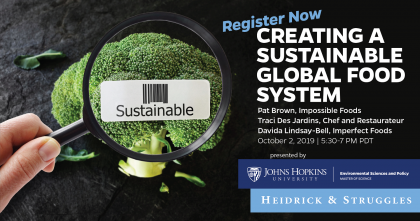 Description
This is the first of a new four-part Speaker Series, The Business of Saving our Planet, hosted by John Hopkins University's Environmental Sciences and Policy program and sponsored by Heidrick & Struggles. This speaker series will take place in the San Francisco Bay Area and be broadcast on Facebook Live. The goal of this speaker series is to bring together some of the brightest minds in the business of sustainability for an informative and inspiring discussion on environmental/social opportunities and challenges such as: Creating a Sustainable Global Food System, the Media's Role in Environmental Awareness & Behavior Change, Technology & Innovation in Wildlife Conservation, and Environmentalism in the Fashion Industry.
Please join us for the first Facebook Live broadcast, Creating a Sustainable Global Food System, on October 2 at 8:30 p.m. With this panel discussion, we will dive into the environmental impacts caused by industrial agriculture both domestically and internationally. The selected speakers, which include Pat Brown (CEO of Impossible Foods), Traci Des Jardins (world famous chef and restaurateur), and Davida Lindsay-Bell (VP, People & Culture for Imperfect Foods), are all actively tackling the negative environmental consequences associated with industrialized agriculture and the growing global demand for food.
Who can attend?
General public
Faculty
Staff
Students
Registration
To register for the Facebook Live event, go to: https://www.eventbrite.com/e/the-business-of-saving-our-planet-creating-a-sustainable-global-food-syste-registration-72513968231
Contact