HOUR Student Seminar Series: Disease
Who can attend?
General public
Faculty
Staff
Students
Contact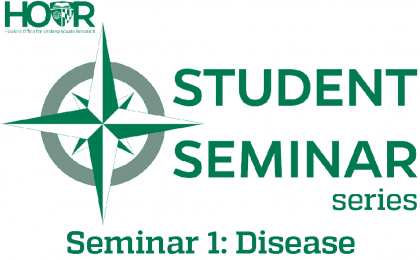 Description
The Hopkins Office for Undergraduate Research presents the first seminar in its Student Seminar Series: "Disease." The presentations will be followed by a panel Q&A.
Featured speakers include:
Daniella Asafu-Adjaye, Medicine, Science and the Humanities and Psychology, '21, "Variation in Hippocampi and Thalami: Effects of the APP Gene in Neonatal Mice"
Christopher Domalewski, Chemical and Biomolecular Engineering, '20 – Summer PURA, "The Future of Lung Disease Treatment: Utilizing Drug Amphiphile Nanotechnology to Treat Lung Cancer, COPD, and Asthma"
Justin Greene, Molecular and Cellular Biology, '21 – Summer PURA, "Antibiotics: Treat Bacteria How You Would Like to Be Treated"
Who can attend?
General public
Faculty
Staff
Students
Contact