DC Women of Johns Hopkins: Emotional Intelligence for Entrepreneurs
Who can attend?
General public
Faculty
Staff
Students
Contact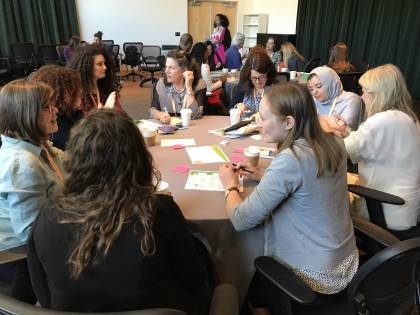 Description
Entrepreneurs can be seen to be strong but many are lonely—too many of us are trying to do it all alone, yet we share many of the same challenges. In order to grow and scale our businesses, it's incredibly important that we have strong leadership skills along the often volatile, yet fulfilling, journey. Emotional intelligence is the number-one indicator of success.
The Washington DC Women of Hopkins Affinity group has teamed up with a leadership development organization, Mavasive Leadership Institute, and a social enterprise specializing in design thinking, Innovazing, to bring women entrepreneurs a full-day program to strengthen key leadership skills centered around emotional intelligence. Based in neuroscience, the Women's Entrepreneurial Leadership Program is highly interactive and experiential to help individuals thrive in complex situations and focuses on building skills such as empathy and resilience.
In this hands-on workshop, attendees will strengthen your ability to lead with empathy and level up their leadership skills. Attendees will also gain new insights on tackling their current business challenges as well as make new connections with other Johns Hopkins entrepreneurs through a unique learning experience based on emotional intelligence methodologies and human-centered design.
A survey will be sent out approximately one week before the workshop to gain an understanding of who is attending and the challenges they experience.
Johns Hopkins alumni, students, friends, and guests of all ages and gender identities are welcome.
Who can attend?
General public
Faculty
Staff
Students
Contact