The AllNighters presents: The Hopkins Code
Who can attend?
General public
Faculty
Staff
Students
Contact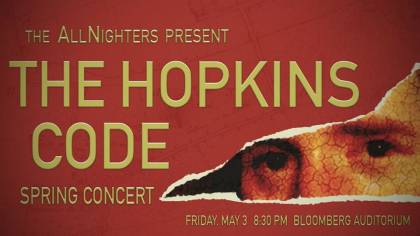 Description
The AllNighters have stumbled across a clue that may lead them to an ancient treasure. Before they know it, they are catapulted into a quest for the chalice used by the founding members of the AllNighters on the night of their first concert 26 years ago. Will they be able to track down the lost wonder? Or has it been lost to time? Come to the concert to find out.
Join the group as they bid a tearful farewell to their seniors and deliver a true treasure of a performance. Featuring songs by artists including Kodaline, Young the Giant, Adele, Lord Huron, and more, this concert will have something for everyone.
Who can attend?
General public
Faculty
Staff
Students
Contact