Changing by Degrees: Multidisciplinary Approaches to Climate Change
Who can attend?
General public
Faculty
Staff
Students
Contact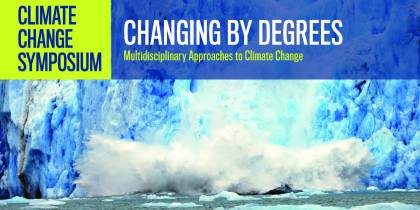 Description
Rather than an academic conference with speakers presenting formal papers, this symposium will provide a framework for understanding climate issues and engaging in a conversation with a range of climate leaders, including:
The symposium will address the current and future impacts of climate change and examine how leaders in diverse fields, from environmental science and public policy to finance and communications, can influence our current climate trajectory.
Read more about the symposium, as well as FAQs, online.
Hosted by Advanced Academic Programs.
Who can attend?
General public
Faculty
Staff
Students
Contact