Faces of Africa: Women on the Frontline
Who can attend?
General public
Faculty
Staff
Students
Contact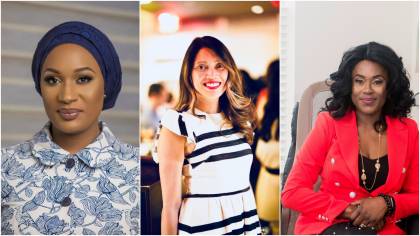 Description
The theme for this year's annual Faces of Africa event is "Women on the Frontline." The event is hosted by the African Public Health Network of the Johns Hopkins School of Public Health.
This year, the featured speaker is Her Excellency Samira Bawumia, the second lady of Ghana, whose nonprofit Samira Empowerment and Humanitarian Projects focuses on health, education, and women empowerment. Bawumia has also partnered with UNICEF, the United Nations Fund, and the Japan International Cooperation Agency to promote maternal and child health and education.
Other panelists include:
Myra Betron ('01, MA '03), the director of gender at Jhpiego, who has 16 years of experience managing and implementing programs on gender and gender-based violence in the context of sexual and reproductive health in 20 countries.

Dr. Lola Adeyemi, CEO of Magna Carta Health, a preventive health services organization, and founder of Mentoring Her, a social networking platform that uses AI to virtually connect female mentors with mentees to create remarkable relationships which significantly increase their full lifetime potential. Dr. Adeyemi is also an alum of the School of Public Health.
Please bring your Johns Hopkins ID to access the building.
Who can attend?
General public
Faculty
Staff
Students
Registration
Contact