Film Producer Christine Vachon Q&A
Who can attend?
General public
Faculty
Staff
Students
Contact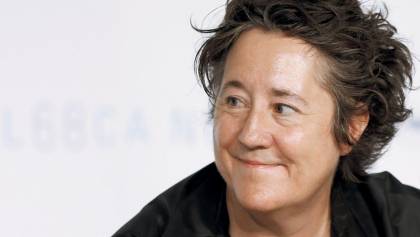 Description
The Program in Film and Media Studies at Johns Hopkins is proud to present independent film producer Christine Vachon as the seventh Visiting Artist in their 2018-19 Visiting Artist Series. The evening will begin with a screening of Velvet Goldmine (dir. Todd Haynes, 1998) and end with a talk/Q&A on Vachon's life in films, moderated by Dr. Meredith Ward, director of Film and Media Studies.
Christine Vachon has been one of the biggest names in independent film since the 1980s. She has produced Academy-Award winning films such as Boys Don't Cry and Carol. She is the author of Shooting to Kill: How an Independent Producer Blasts through Barriers to Make Movies that Matter, A Killer Life: How an Independent Producer Survives Deals and Disasters in Hollywood and Beyond, and The Apparatus Guide to No-Budget Filmmaking in New York City.
Her production company, Killer Films, has produced over 100 films, including Far from Heaven, Kids, One Hour Photo, Hedwig and the Angry Inch, Happiness, Storytelling, Velvet Goldmine, SAFE, I Shot Andy Warhol, Go Fish, Swoon, I'm Not There, Still Alice, and more.
This event is presented in partnership with the SNF Parkway/Maryland Film Festival and is funded by the ongoing support of the Saul Zaentz Foundation.
Who can attend?
General public
Faculty
Staff
Students
Contact