Fresh Food Cafe's Sterling Brunch
Who can attend?
General public
Faculty
Staff
Students
Contact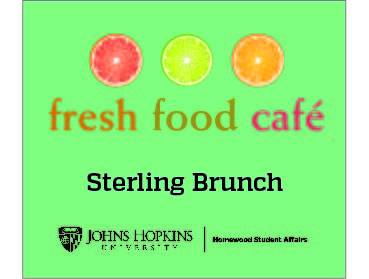 Description
Come to Fresh Foods Café to enjoy a delicious brunch and live musical entertainment provided by various performance groups from the Johns Hopkins campus. This is the last Sterling Brunch of the academic year.
The menu for this Sterling Brunch includes:
seafood and corn gratin with lobster-tomato velouté and Swiss cheese
roasted leg of lamb with garlic and rosemary jus
egg white and vegetable quiche
southern biscuit and cornbread bar
smoked salmon
peel-and-eat Old Bay shrimp
steamed "PEI" mussels Provençale
strawberry, peach, and mango sparkling beverages
strawberry crepes station
delicious spring desserts
Sterling Brunch is a long-standing Hopkins tradition for students, faculty, staff, alumni, and anyone in the community. The menu changes with the season and includes gourmet items and dessert.
Who can attend?
General public
Faculty
Staff
Students
Tickets
All-you-care-to-eat buffet: $15.35 + 6% tax per person (Jcash, cash, debit/credit)
Meal swipes, guest passes, and dining dollars accepted.
Contact