2019 Hammerman Lecture: Johanna Drucker
Who can attend?
General public
Faculty
Staff
Students
Contact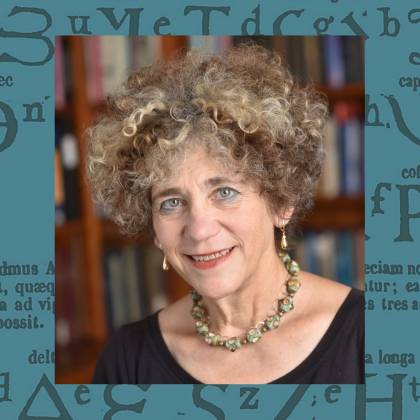 Description
Dr. Johanna Drucker, a professor of Bibliographical Studies and Information Studies at the University of California, Los Angeles, will give the 2019 Hammerman Lecture entitled "Alphabet Historiographies: The Matter of Sources." Drucker is also the inaugural Distinguished Research Fellow at Yale University's Beinecke Library.
The modern alphabet is rooted in sound and writing systems that go back thousands of years. Its history is often presented as a self-evident evolution. But what we know about the alphabet comes to us only from certain sources. Our access to this history, in other words, is dependent upon the technologies of knowledge production that shaped the alphabet itself.
In this talk, Johanna Drucker presents the current state of her research on the historiography of the alphabet: the material history of its history. She looks across textual, bibliographical, graphical, antiquarian, archaeological, epigraphic, and other technologies to understand how each of these constructed an "alphabet" as an object of study. The critical implications of this understanding have a bearing on the current infrastructure of communication in the form of Unicode and its role in global hegemonic practices.
This event is co-sponsored by the Sheridan Libraries and the Sensorium of Reading.
(em)The Judge Robert I.H. Hammerman Memorial Lecture was established in 2006 as a tribute to alumnus Judge Hammerman's devotion to scholarship and education for the Johns Hopkins and greater Baltimore communities.(/em)
Who can attend?
General public
Faculty
Staff
Students
Contact