Film screening: "Faces Places"
Who can attend?
General public
Faculty
Staff
Students
Contact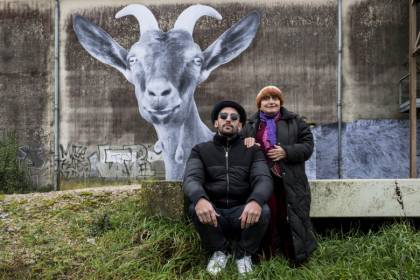 Description
A screening of the film Faces Places (Visages villages) in which 89-year-old powerhouse Agnès Varda teams with the world-famous young street artist JR to make a film as wide-ranging as it is personal, as fanciful as it is pointed. Setting off on French country roads to find subjects for JR's trademark mural-size portrait photographs, the two artists focus on people generally outside of the spotlight: retired miners, factory workers, the wives of dockers, and farmers.
Faces Places was nominated for an Academy Award for the Best Documentary of 2017.
This event is part of the Johns Hopkins 2019 Tournées Film Festival. The film is presented by Molly Warnock, an assistant professor of the History of Art. The film is in French with English subtitles.
The Tournées Film Festival is made possible with the support of the Cultural Services of the French Embassy in the U.S., the Centre National du Cinéma et de l'Image Animée (CNC), the Franco-American Cultural Fund, Florence Gould Foundation, and Highbrow Entertainment.
Festival sponsors include the Johns Hopkins University Department of German and Romance Languages and Literatures, the Program in Film and Media Studies, the Center for Advanced Media Studies, the Alexander Grass Humanities Center, the French Program, and the Graduate Representative Organization.
Who can attend?
General public
Faculty
Staff
Students
Contact