Policing Alternatives: Panel and Community Meeting
Who can attend?
General public
Faculty
Staff
Students
Contact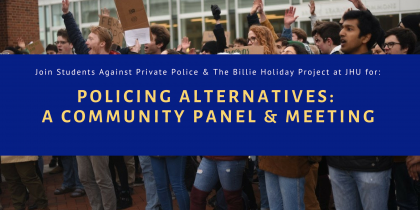 Description
Students Against Private Police and the Billie Holiday Project for Liberation Arts at Johns Hopkins University will host a panel and community meeting to discuss alternatives to policing initiatives underway in Baltimore City.
Featuring Baltimore Redevelopment Action Coalition for Empowerment, Leaders of a Beautiful Struggle, Safe Streets, and others, this event will provide Johns Hopkins faculty, staff, students and neighborhood residents the opportunity to hear from the leaders of progressive political and social movements serving Baltimore's neediest communities and pioneering innovative solutions to unemployment, mass incarceration, criminal justice reform and youth violence.
Panelists will present their work, followed by questions, testimonies, and conversation. Dr. Lawrence P. Jackson, professor of English and History at Johns Hopkins and director of the Billie Holiday Project, will moderate.
Who can attend?
General public
Faculty
Staff
Students
Registration
Contact