Film screening: "Metamorphoses"
Who can attend?
General public
Faculty
Staff
Students
Contact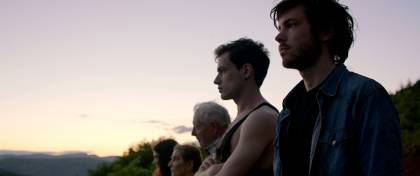 Description
In Metamorphoses, writer/director Christophe Honoré adapts Ovid's epic poem of the same name into a lyrical and philosophical film.
Katie Walsh of the Los Angeles Times says, "Honoré sets the events in a contemporary environment while maintaining the story details of the mythology, a choice that highlights the hedonistic, brutal, often misogynist themes that underpin the antics of the Roman gods. The result is a daring exploration of the inextricable and fluid relationships of sex, gender and power."
This event is part of the Johns Hopkins 2019 Tournées Film Festival. The film is presented by Shane Butler, professor and chair of the Classics Department at Johns Hopkins. The film is in French with English subtitles and includes nudity and many scenes of intercourse with varying degrees of consent.
The Tournées Film Festival is made possible with the support of the Cultural Services of the French Embassy in the U.S., the Centre National du Cinéma et de l'Image Animée (CNC), the Franco-American Cultural Fund, Florence Gould Foundation, and Highbrow Entertainment.
Festival sponsors include the Johns Hopkins University Department of German and Romance Languages and Literatures, the Program in Film and Media Studies, the Center for Advanced Media Studies, the Alexander Grass Humanities Center, the French Program, and the Graduate Representative Organization.
Who can attend?
General public
Faculty
Staff
Students
Contact