Who can attend?
General public
Faculty
Staff
Students
Contact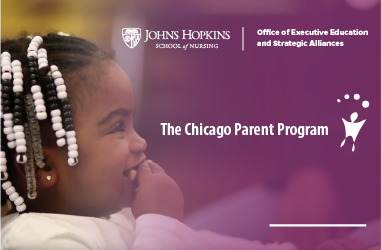 Description
The Johns Hopkins School of Nursing presents the Chicago Parent Program, a nationally renowned training workshop for professionals serving low-income families with young children who want to implement the program in their agency or practice.
The Chicago Parent Program is a 12-session video- and group-based parenting skills training program that has been shown to improve parenting skills and confidence and reduce behavior problems in young children 2-5 years old. This event is for professionals working in schools, early childhood programs, and mental health agencies serving low income families of young children, including:
Nurses
Social workers
Psychiatrists
Psychologists
Early-childhood program parent coordinators
School-based mental health consultants
Teachers working with parents
Who can attend?
General public
Faculty
Staff
Students
Tickets
The two-day training is $800. The training plus the DVD set is $1500. Special group rates available, and the training is eligible for JHU Tuition Remission.
Contact