Who can attend?
General public
Faculty
Staff
Students
Contact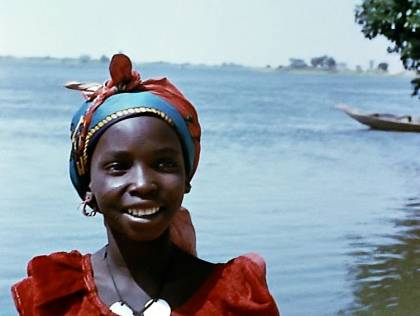 Description
A screening of the film Jaguar, one of director Jean Rouch's classic ethnofictions that follows three young Songhay men from Niger -- Lam Ibrahim, Illo Goudel'ize, and the legendary performer Damoure Zika -- on a journey to the Gold Coast (modern day Ghana).
Rouch collaborated with his three subjects on an improvisational narrative. The four filmed the trip in mid-1950s, and reunited a few years later to record the sound, the participants remembering dialogue and making up commentary. The collaboration between filmmaker and subjects reveals a wide range of ethnic, geographic, and cultural differences within just a small piece of the African continent, as well as the social changes and patterns of migration that defined mid-century African life. More than plain ethnography, Rouch and his collaborators have created a new kind of myth.
This event is part of the Johns Hopkins 2019 Tournées Film Festival. The film is presented by Ousseina Alidou, a professor of African Languages and Literatures at Rutgers University. The film is in French with English subtitles.
The Tournées Film Festival is made possible with the support of the Cultural Services of the French Embassy in the U.S., the Centre National du Cinéma et de l'Image Animée (CNC), the Franco-American Cultural Fund, Florence Gould Foundation, and Highbrow Entertainment.
Festival sponsors include the Johns Hopkins University Department of German and Romance Languages and Literatures, the Program in Film and Media Studies, the Center for Advanced Media Studies, the Alexander Grass Humanities Center, the French Program, and the Graduate Representative Organization.
Who can attend?
General public
Faculty
Staff
Students
Contact