Who can attend?
General public
Faculty
Staff
Students
Contact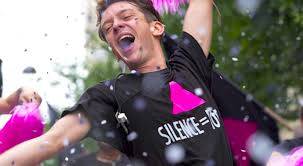 Description
A screening of the film BPM (Beats per Minute), 120 battements par minute original title, a passionately acted ensemble movie about Act Up in France in the late 80s. Act Up was the confrontational direct-action movement which demanded immediate, large-scale research into AIDS. The movie compellingly combines elegy, tragedy, urgency, and a defiant euphoria. This film has what its title implies: a heartbeat. Peter Bradshaw from The Guardian called it "full of cinematic life."
This event is part of the Johns Hopkins 2019 Tournées Film Festival. The film is presented by Nicholas Papageorge, an assistant professor of Economics at Johns Hopkins University. The screening is preceded by an opening night reception at 6:30 p.m. The film has strong themes, sex scenes, and graphic nudity and is in French with English subtitles.
The Tournées Film Festival is made possible with the support of the Cultural Services of the French Embassy in the U.S., the Centre National du Cinéma et de l'Image Animée (CNC), the Franco-American Cultural Fund, Florence Gould Foundation, and Highbrow Entertainment.
Festival sponsors include the Johns Hopkins University Department of German and Romance Languages and Literatures, the Program in Film and Media Studies, the Center for Advanced Media Studies, the Alexander Grass Humanities Center, the French Program, and the Graduate Representative Organization.
Who can attend?
General public
Faculty
Staff
Students
Contact