Johns Hopkins Day at the Reginald F. Lewis Museum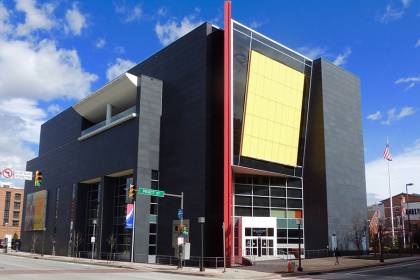 Description
Johns Hopkins students, faculty, staff, and their families are invited to visit the Reginald F. Lewis Museum free of charge as part of the third annual Johns Hopkins Day at the Reginald F. Lewis Museum. Admission includes access to five exhibitions, a dance showcase, film screenings, and children's activities.
In addition to its three permanent collections, the museum currently houses two temporary exhibitions:
Romare Bearden: Visionary Artist features more than 70 works in a variety of media from throughout Bearden's career. Best known for his collages, Bearden, who died in 1988, experimented with form and media to create commentaries on social realism and abstraction.
Roland Freeman's Arabbers: Life in the City Streets showcases the work of Freeman, a renowned documentarian of folk culture. The exhibition includes more than 100 historic photographs that highlight the tradition of traveling, horse-drawn street vendors in Baltimore.
The program also includes a screening of the art film Black Is the Color, which highlights African-American artists in history, including Edmonia Lewis, Whitfield Lovell, Ellen Gallagher, Romare Bearden, and Jean-Michel Basquiat.
Children who attend Johns Hopkins Day can also drop in on a collage art activity based on Bearden's work, or view a 20-minute animated short film about the artist.
The dance showcase, featuring the company Dance Baltimore, takes place at 1 p.m. and again at 2 p.m. and offers an interpretation of Bearden's work.