Stern Center lecture: Lauren Kassell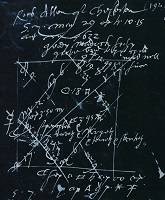 Description
Dr. Lauren Kassell, a professor of the History of Science and Medicine at the University of Cambridge and a fellow of Pembroke College, will give a talk entitled "Written in the Stars: Digitizing an Astrological Archive." Kassell is one of the scholars working the university's Casebooks Project, which is turning the medical records produced by the astrologers Simon Forman and Richard Napier around 1600 from a paper archive into a digital one.
This event is co-sponsored by the Singleton Center for the Study of Premodern Europe and the English Department and supported by the Stern Center.
The Virginia Fox Stern Center for the History of the Book in the Renaissance was established with a permanent endowment in 2017 to support lectures and fellowships, scholarly symposia, and publications related to the rare book and manuscript collections of the Sheridan Libraries at Johns Hopkins University. The Center's scholarly focus encompasses the historical reception of classical and medieval thought, and the culture and influence of the Renaissance, throughout the early modern period.
Contact