DMC Event: Truth and Reconciliation in Baltimore
Who can attend?
General public
Faculty
Staff
Students
Contact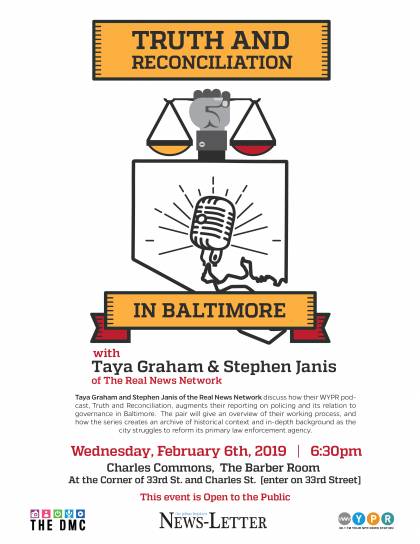 Description
Taya Graham and Stephen Janis of the Real News Network discuss how their WYPR podcast Truth and Reconciliation augments their reporting on policing and its relation to governance in Baltimore. The pair will give an overview of how the series creates an archive of historical context and in-depth background as the city struggles to reform its primary law enforcement agency. This event is sponsored by the JHU Digital Media Center, the JHU Newsletter, and WYPR.
Truth and Reconciliation will be held on Feb.6th, starting at 6:30pm at the Charles Commons Barber Room (on the corner of Charles and 33rd). This event is open to the public. Enter on the 33rd St. entrance.
Who can attend?
General public
Faculty
Staff
Students
Contact