Author reading: Jack Gilden
Who can attend?
General public
Faculty
Staff
Students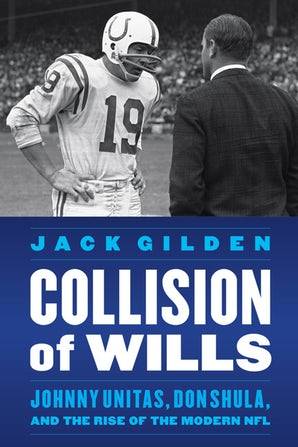 Description
Jack Gilden reads from his book Collision of Wills: Johnny Unitas, Don Shula, and the Rise of the Modern NFL.
In their seven years together, quarterback Johnny Unitas and coach Don Shula, kings of the fabled Baltimore Colts of the 1960s, created one of the most successful franchises in sports. Unitas and Shula had a higher winning percentage than Lombardi's Packers, but together they never won the championship. Baltimore lost the big game to the Browns in 1964 and to Joe Namath and the Jets in Super Bowl III—both in stunning upsets. The Colts' near misses in the Shula era were among the most confounding losses any sports franchise ever suffered. Rarely had a team in any league performed so well, over such an extended period, only to come up empty.
The two men had a complex relationship stretching back to their time as young teammates competing for their professional lives. Their personal conflict mirrored their tumultuous times. As they elevated the brutal game of football, the world around them clashed about Vietnam, civil rights, and sex. Collision of Wills looks at the complicated relationship between Don Shula, the league's winningest coach of all time, and his star player Johnny Unitas, and how their secret animosity fueled the Colts in an era when their losses were as memorable as their victories.
Who can attend?
General public
Faculty
Staff
Students