Music Hackathon: Falling Into Frost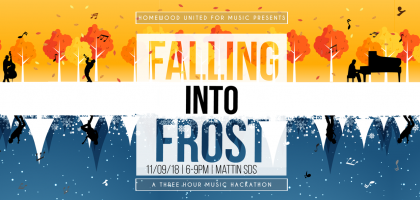 Description
Come to Homewood United for Music's Music Hackathon. Musicians and music-hobbyists of all instruments (including voice), genres, and skill levels are invited to come together, meet other fellow musicians, and collaborate while exploring new music for fun.
Attendees will be put into groups of two to three people based on music interests and experience for a collaborative challenge: Put together a short interpretation/medley of two (or more) pieces from composers/artists of your choice. Or, you can create your own original song. Bonus challenge: Incorporate both the fall and winter theme to your music. At the end of the night, we'll award prizes to those who are bold enough to share their spontaneous creations.
There will also be pizza, fall-themed snacks, and refreshments. Bring your friends.
Contact