Open access and health equity panel discussion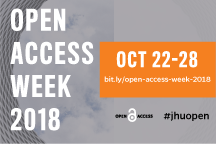 Description
Johns Hopkins Alliance for a Healthier World and the Welch Medical Library will host a panel discussion as part of Open Access Week. Panelists Anne Seymour, Heather Joseph, and Joe McArthur will discuss the connection between sharing knowledge through open access and improving health equity for society.
Panel highlights include:
how open access can work for faculty, including junior faculty
the misaligned incentives of academic promotion and the move away from journal-level scientific impact factor as a way of assessing quality
how medical journal access can empower patients with a life-threatening disease
how open tools from the Open Access button to Unpaywall might help us advance open-access efforts
the importance of academic research to low- and middle-income countries
Events are planned on the Homewood and East Baltimore campuses throughout Open Access Week to highlight the benefits of placing research in open access repositories and the resources available to Johns Hopkins faculty.
Contact