'Our Hungry Planet: What the World Eats'
Who can attend?
General public
Faculty
Staff
Students
Contact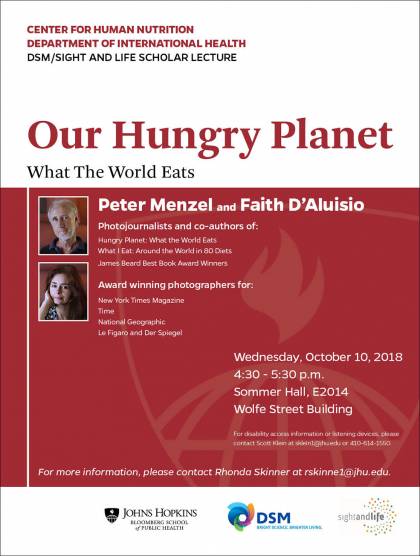 Description
The Center for Human Nutrition at the Johns Hopkins School of Public Health is delighted to present the award-winning photojouarnalist duo, Peter Menzel and Faith D'Aluisio, as this year's DSM/ Sight and Life Scholar Lecture.
Peter Menzel is a freelance photojournalist known for his coverage of international feature stories on science and the environment. His award-winning photographs have been published in National Geographic, Smithsonian, the New York Times Magazine, and Time. Faith D'Aluisio is a former award-winning television news producer. She is the editor and lead writer for the book-publishing imprint Material World Books.
Together, Menzel and D'Aluisio have authored several best-selling books, including volumes that have given the world iconic photos and penetrating stories of people, the diets they eat, and their daily lives spanning diverse cultures and environments. Their book Hungry Planet: What the World Eats (Material World Books, Ten Speed Press, 2005) is a compelling around-the-world exploration of daily life in 24 countries, detailing weekly groceries and food costs via photos and thought-provoking interviews, earning for Menzel and D'Aluisio the coveted James Beard Best Book Award in 2006. Their next volume What I Eat: Around the World in 80 Diets (Material World Books, 2010) is a photographic journey that brings together the personal lives and typical daily diets of 80 individuals across 30 countries into focus, both visually and emotionally.
Through their evocative narrative style and exceptional photojournalism, Menzel and D'Aluisio shine a beam of light into the pantries of ordinary individuals throughout our world. In doing so, they capture globally the spirit of public health nutrition.
Complimentary copies of their book What I Eat: Around the World in 80 Diets will be distributed to the first 350 attendees.
Who can attend?
General public
Faculty
Staff
Students
Contact