8th Annual Stick It to Sarcoma Fall Play Day
Who can attend?
General public
Faculty
Staff
Students
Contact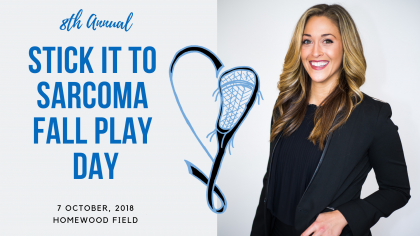 Description
Join the Johns Hopkins University women's lacrosse team for the eighth annual Stick It to Sarcoma Play Day and help us raise funds for sarcoma research at Johns Hopkins. Stop by for a bit or stay for the full day. The competing teams include Johns Hopkins; Villanova University; University of Maryland, Baltimore County; Rutgers University; Drexel University; Arizona State University; and Boston College.
The Blue Jays are raising money in honor of Ned Ballatori, who passed away in December 2011 of angiosarcoma, a malignant cancer that affects the blood or lymphatic vessels. Ballatori is the father of 2012 graduate and two-time captain of the Hopkins women's lacrosse team Rachel Ballatori, who started the Stick It to Sarcoma Foundation to raise money and awareness.
Can't attend? Make a donation online.
Who can attend?
General public
Faculty
Staff
Students
Tickets
$1 at the gate (minimum suggested donation)
Contact